WALK-1 UNDER-DESK TREADMILL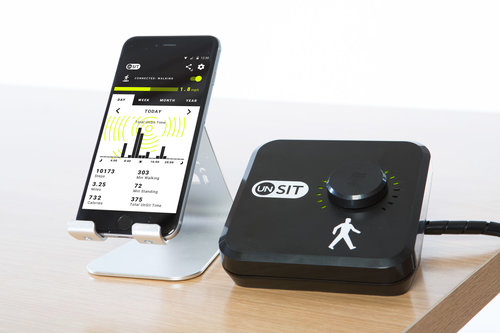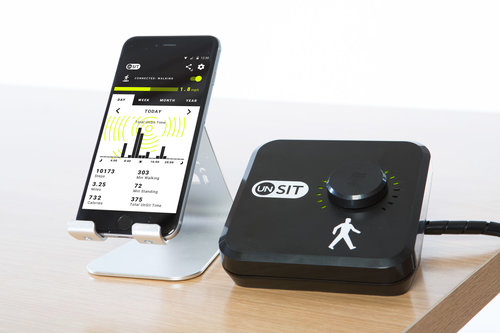 WALK-1 UNDER-DESK TREADMILL
FREE Curbside Shipping through September - We'll pay the freight to get it to you!
30-Day Money Back
Testimonials
This is the world's first treadmill designed for your office, not for the gym. Saves space behind your desk. Easy controls and a motivating app make it simple to use, pause and resume with the press of a button. Manufactured to commercial standards using the highest quality components available.
Requires 40" clearance between legs of your desk
FEATURE
UNSIT
LIFESPAN
TR5000-DT3
iMOVR
REBEL
STEELCASE
USABLE WALKING SURFACE - Area you can actually walk on.
1200 sq.inches
800 sq.inches
800 sq.inches
720 sq.inches.
774 sq.inches
PROTRUDES BEHIND YOUR DESK
27 inches
37 inches
40 inches
36 inches
40 inches
OVERALL WIDTH - Allows safe access to the entire width of your desk.
38 inches
28 inches
29 inches
24 inches
31 inches
IMMEDIATE AUTO STOP AT ALL SPEEDS
YES
NO
NO
NO
NO
CONTROLLER FOOTPRINT - Space taken up on your desktop.
5" x 5" = 25 sq.inches
13" x 3" = 39 sq.inches
7.25" X 4.125" = 30 sq.inches
8" X 3" = 24 sq. inches
Built in to front edge of desk
CONTROLLER TYPE
Single Tactile Turn Knob
Multiple Press Buttons
Multiple Press Buttons
Multiple Press Buttons
Multiple Press Buttons
EMERGENCY STOP MECHANISM
Mounts discreetly under desk
Connects to controller, tether sits on top of desk. Less likely to activate when needed.
Connects to controller, tether sits on top of desk. Less likely to activate when needed.
Connects to controller, tether sits on top of desk. Less likely to activate when needed.
Plugs in to front edge of desk.
DECIBEL LEVEL¹
42.9 dB
Not Published
42.7 dB
Not Published
Not Published
SHOCK ABSORBING DECK
YES
YES
YES
NO
YES
SPEED RANGE
.3 - 2.0 mph
.4 - 4 mph (can be set at 2mph)
.5 - 2.5 mph
.5 - 2.5 mph
.3 - 2.0 mph
SAFETY CERTIFICATION
TUV²
CE
UL
None Listed
"Meets ETL requirements"
SMART PHONE APP
YES
YES
cloud service
NO
NO
WARRANTY
Lifetime Frame
3 Years Motor
2 Years Parts
1 Year Labor
Lifetime Frame
3 Years Motor
2 Years Parts
1 Year Labor
3 years Motor
2 years Parts
1 year Labor
20 years Frame
2 years Motor
1 Year Labor

3 years Motor
2 years Parts
1 year Labor
RETURN POLICY
30 day 100% refund minus shipping
30 days 85% refund minus shipping
100 day 80% refund minus shipping
30 day 100% refund no freight charges
Check with local Dealer
SERVICE PROVIDERS
NGS³
Not Published
Spirit
Not Published
Steel Case Dealers
MAXIMUM USER WEIGHT
400 lbs
400 lbs
400 lbs
250 lbs
350 lb
AMPERAGE DRAW - 170lb person at 2 mph⁴
1.5 amp
1.8 amps
Not Published
Not Published
3 - 8 amps
OVERALL FOOTPRINT
56" x 39" x 9"
63" x 28.5" x 7.5"
67.5" x 28.35" x 9.5"
63" x 24" x 6"
64" x 24" x 6"
TREADMILL WEIGHT
161 lbs
122 lbs
150 lbs
88 lbs
Not Published
BELT DIMENSIONS
30" x 40"
20" x 50"
20" x 50"
18" x 50"
18" x 53"
STEP UP HEIGHT
5"
5.2"
5"
Not Published
6"
PRICE WITH DESK
$2,090
$2,249
$2,195
Not Available
$4,995
PRICE WITHOUT DESK
$1,595
$1,499
$1,495
$999
Not Available
SHIPPING
FREE
Depends on retailer
$149
$195
Depends on retailer
MOTOR HORSEPOWER⁵
2.75 HP 4,000 RPM Treadmill Duty
3 HP Continuous Duty
3 HP at 4000rpm - Unlimited Duty Cycle
1.5 HP - 3.5 peak
DC Continuous Drive Motor
Not Published

¹ Decibel Levels vary greatly depending on the acoustics of the room they are measured.
² TUV meets and exceeds ETL and UL safety standards.
³ National Gym Supply is an international provider of services and parts since 1992. NGS has a nationwide network of certified treadmill technicians.
⁴ The WALK-1 is uniquely geared to produce maximum power at slow speeds delivering a smooth quiet walking experience and the lowest amperage draw under load indicating its high degree of efficiency.
⁵ Horsepower is a rating that depends on multiple variables. The actual amount of power delivered to the walking belt depends on gearing.
See Owner's Manual.
Features
50% wider than regular treadmills allows you meander comfortably across the entire width of your desk.

Over a foot shorter than regular treadmills saves precious floor space behind your desk yet long enough for Michael Jordan to walk on.

Auto-Stop insures safety. The walking surface stops immediately when you step off and resumes with the simple push of the control knob.

Heavy gauge steel frame

1" thick phenolic surface deck

Pre-lubricated walking belt

Low step up height of 5".

Library quiet and smooth at slow speeds.

Intuitive and attractive desktop controller includes USB charger and takes up minimal space.

U.S. Patent No. D797216 walking platform design enhances safety, productivity and creativity.

TUV Product Safety Certification

Mobile App tracks meaningful metrics including steps, distance, calories, walking time and total standing time and connects that data to FitBit and Apple's Health App and allows you to share your progress on your favorite Social Media.
Shipping
UnSit Treadmill Desks and Under-Desk Treadmills must ship with LTL Freight Carriers. This is different than FedEx or UPS Courier services. There are three different shipping options at checkout:
CURBSIDE DELIVERY - The Freight Carrier will deliver the pallet with your Treadmill Desk onto your property, but they are not obligated to get it inside your home or office.
INSIDE DELIVERY - The Carrier will call and schedule a time window and the driver will move the boxes inside your home or office but they may not move it into a specific room. NOTE: In commercial office buildings, the driver is only obligated to bring the treadmill past the "first threshold" of the building. They may not bring it up elevators or down long corridors.
WHITE GLOVE SERVICE - UnSit will contract with a qualified treadmill technician in your area and ship your Treadmill Desk to them. The technician will schedule an appointment, assemble and install your new Treadmill Desk where you want it. The White Glove Service provider will remove the shipping carton and materials.
WE SHIP TO CANADA with the necessary documentation for importing. Canadian citizens are responsible for taxes or duties (if any), plus the Customs Broker's fee which is about $100. For specific details about taxes/duties, contact Bridgeview Brokers in Toronto sales@bridgeviewbrokers.com or call them at 800-350-0248.
More info about UnSit shipping
Specs
DIMENSIONS
OVERALL – 39" wide by 56" long
WALKING SURFACE - 30" wide by 40" long
Requires 40" clearance between legs of your desk
STEP UP HEIGHT
5"
WEIGHT
162 lbs. – (73 kg.)
SPEED RANGE
0.3 – 2.0 MPH (.05 - 3.2KPH)
MAXIMUM LOAD
350 lbs. – (160 kg.)
ELECTRICAL
120VAC – 60Hz – 6amp – 600 watt
ELECTRICAL OUTLET REQUIRED
120VAC – 20 amp, dedicated circuit recommended
MOTOR HORSEPOWER
2.75
MOTOR RPM
4,000
DATA DISPLAY
VIA BLUETOOTH TO iOS and Android APP
DATA SENT TO APP
Speed, Time, Distance, Calories, Steps, Time spent standing
SHIPPING DIMENSIONS
62" x 42" x 10" - 182 lbs - (82 kg)
Warranty
FRAME – Lifetime
All other parts – 3 years
Labor to replace parts – 1 year